"It all started happening so fast. It's hard enough to understand the word you don't want to hear. It's still hard enough to say cancer."
After his playing career came to an end in 2019, former Sheffield Wednesday and Blackburn left-back Tommy Spurr moved on to teaching.
Having had two children with his wife Chloe, Spurr adjusted to life away from professional football.
But the 34-year-old received the devastating news earlier this year that his three-year-old son Rio had been diagnosed with a rare form of cancer.
Around Easter weekend, Rio fell ill, and after initially seeing his GP, his condition worsened, so Tommy and Chloe took him to A&E.
"He was complaining of a bit of a tummy ache and pointing to his side. We made a doctor's appointment for the next day. They said it could be constipation or maybe a reaction to his preschool injections," Tommy told BBC Radio Lancashire. .
"But it wasn't anything too worrisome, which didn't surprise us because he had been absolutely fine before that. There was no sign of him being wrong. That was Monday and Friday night he started feeling pretty sick." And that continued until Saturday."
After noticing a hard swelling on his side, a trip to hospital in Blackburn and an X-ray followed.
"They thought he might have a blockage in his intestine or a twisted intestine, which might require surgery. So they transferred us to Royal Manchester Children's Hospital," Tommy said.
Chloe traveled in the ambulance with Rio to Manchester. After her arrival, there was a change in Rio's diagnosis.
Chloe continued: "Two surgeons came to talk to me. One of them told me that it was not what had been suggested at Blackburn and that it was not a blockage in the intestine and that I was not going to need surgery that night as we thought.
"I was relieved, but then I could tell from the looks on their faces that there was something else going on and I shouldn't be relieved. They said, 'We're pretty sure this is a nasty lump.' Does that mean cancer? and they said yes."
Tommy drove to Manchester when the severity of Rio's condition began.
"I was worried that he would drive to Manchester because he was horrible," Chloe said. "Your whole world was shattered and completely changed in that conversation."
Rio treatment begins
A biospy was hired. Scheduled chemotherapy. Then came the news that Rio had been diagnosed with a rare form of cancer.
Wilms tumor is a type of kidney cancer that mainly affects young children. About 80 children a year they are diagnosed in the UK.
However, once Rio's treatment began, it was discovered that the cancer had spread to his lungs. In addition, she underwent a four-hour operation to remove the tumor and the right kidney.
"With Wilms' tumor, if it hasn't spread anywhere else, it's four weeks of chemotherapy and then an operation. Whereas Rio had lung metastases in each lung, which meant his chemotherapy had already been extended to six weeks." Tommy continued.
"But since the surgery and what they found means his chemotherapy has been stepped up a lot more.
"When we go, we're there for four days. And the side effects are obviously much higher with the more intense chemotherapy combined with radiation therapy down the road."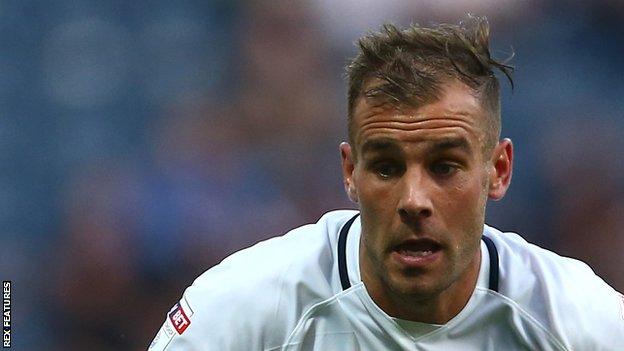 Tommy and Chloe had to carefully broach the subject of her illness with Rio.
"We decided early on that even though he doesn't know the full extent of what's going on with him, we decided to be pretty honest with him and say, 'You're going to get a little break from daycare because you're going to take some medicine to try to help you. with the bulge in your belly,'" Tommy said.
"He knows what we're saying, so we're going to have to be as honest as possible with a three-year-old and explain that he's going to spend a little bit of time in the hospital and try to do better."
Chloe continued, "She asked me one day while I was changing Rudy's diaper, 'Does Rudy have a tummy lump too?' And we hadn't actually used the word 'lump' at this point. That's when we realized that she maybe understood a little bit more. And then we told her maybe a little bit more than we already knew."
a very dear child
Adjusting to chemotherapy and living with cancer can be difficult for people of any age, but it's particularly difficult for a three-year-old who is used to playing with his friends in day care.
"She misses daycare. Recently, it's been quite difficult. She's asked a lot of questions. Our consultant is very tall and said, 'When is the big doctor going to say I can go back to daycare?'" Chloe said.
"The nursery is down the street and we often walk past and sometimes wave to his friends over the fence. I think that's pretty overwhelming for him, but he likes it. Everyone comes out cheering his name. He's fine appreciated."
Tommy added: "Going to play centers and crowded places with a lot of kids, he loves it. But unfortunately those are the kind of places that could end up sending us back to the hospital with an infection."
"As soon as he has a temperature, you have to get him to the hospital and it's an automatic 48-hour admission. Obviously, it's trying to find that balance where we don't want to lock him up when he's feeling good." because you want him to still have fun."
balancing everything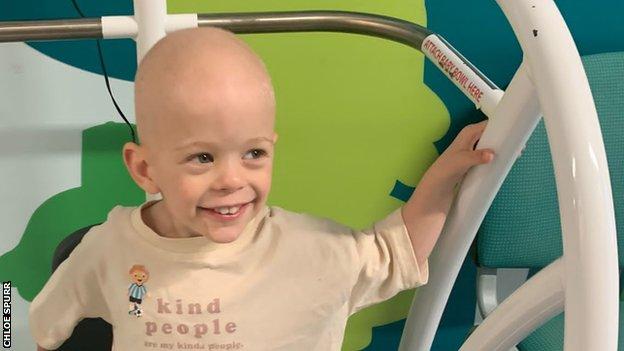 Rio's treatment has also had an impact on Chloe and Tommy's professional lives as they try to balance that with caring for their son.
"I love my job and I've really struggled with it," Chloe added.
"I kept working until recently. But it became impossible, really, because we don't know what to expect with Rio, in and out of the hospital.
"It wasn't feasible for me to commit to seeing clients and then having to let them down."
Tommy, who works an hour from the family home, also had to leave his job due to the impact of the situation.
"In the blink of an eye, we could have to go to the hospital and if I'm stuck in traffic more than an hour away, it's going to be hard to get back."
"We also have an 18-month-old boy, Rudy. He needs us as much as Rio. It's a bad time, really. I can't commit to being there because I don't know where we're going." being with Rio and Rio is a priority".
Since Rio's diagnosis, some of Tommy's colleagues at Priestley College have started a crowdfunding page to help the family, which has since raised nearly £30,000.
"I was probably a bit uncomfortable at first because of the pride and maybe what people might think about our perception of footballers," Tommy said.
"It's a situation where we find ourselves and people have been kind enough to help us and I don't see anything wrong with accepting that help instead of fighting and making our lives more difficult."
The chances of Rio's cancer coming back are quite high, and the money raised could help the family continue treatment.
"People have been so kind, so generous. I think we still find it quite overwhelming," Chloe said.
"We had a conversation with our consultant after the fundraiser started. He said if we could raise a significant amount of money, that could be really helpful.
"If Rio's cancer were to come back, our options could be quite limited in this country, and we may need to look abroad for potential treatment that is not available on the NHS."
Tommy continued, "We feel like we're doing something for him and it's going to help him. We're not doctors, consultants or surgeons, but it's something to give him that chance. I couldn't stand the thought of not giving him every chance to be okay."
If you have been affected by the issues raised in this story, information and support is available at BBC Action Line.