Asadgate New Colony woke up to a festive buzz every Shab-e-Barat from 1975 through the mid-'80s, but much of this excitement wasn't about the expected halwa-rotis, it was about the beef. Portions of beef were sold in the large field of the colony very early in the morning, all organized by the boys of the colony. Most of the families bought meat there, and the families enjoyed that mixed preparation of meat with rice flour rotis; the delicious taste still fresh in my memory.
My father used to say "Jhal e jhosh-e ranna koro" or cook it with a lot of red masala and oil. Actually, when the meat is cooked with various parts of the animal mixed together, such as the head, rump, leg, ribs, and lungs, it tasted very different from the usual curry.
For the latest news, follow The Daily Star's Google News channel.
the roasted spleen
This time, we had gone to the village to celebrate Eid with the family. After dividing up all the Qurbani meat, my cousin came over, holding something strange, and said, "Tillikhan pora ewar nageche," which means the spleen had to be burned. I was quite surprised what kind of food this was!
Then I saw my grandmother take the tilli, or spleen, wash and clean it, and then put it inside the clay stove to roast it, along with some green chiles and cloves of garlic. Once roasted, she crushed all the ingredients together with the coriander leaves in a mortar. Then she would add some freshly cut onion and mustard oil and feed it to us. There I learned that spleen could be prepared like this, and have been roasting it in a pan ever since to make myself something similar.
Not just the bhorta
However, that is not the only way the spleen is prepared. It can also be cooked as a "bhuna". For that, it has to be cut into small pieces and boiled, and then discard the water. You can also add liver to the mix. Once boiled, you have to sauté in a little oil, salt and a little turmeric. Add the ginger, garlic, and cumin, and keep stirring until the oil separates, when you need to add a lot of whole cloves of garlic. Bring to a simmer so the garlic cloves cook through. Add some freshly chopped onions just before removing from the heat.
A lot of people don't like cow intestine, but there are plenty of others who find it delicious. Many hotels in Dhaka also serve it now. The longer it cooks, the tastier it becomes. I had their tastiest preparation at Rajshahi, with the locally famous Kalai ruti. Tasting steaming fresh kalai ruti and delicious hot intestines sitting on roadside wooden benches remains unforgettable.
People even cook dishes with the meat from the teats of cows. Most kabab shops sell "Khiri kabab", but in the northern regions like Rangpur and Dinajpur, people make bhuna from this kind of meat cut into small pieces, and I found that it is much tastier than kababs.
The same applies to cow brains. Kebabs and brain chops are more popular commercially, but at home, brains are also usually cooked as bhunas. Najirabazar's brain bhuna remains fresh in our minds, just as we ate it as students in the 1980s.
Buffalo is also meat
Most people don't like buffalo meat, but it is sold in many butcher shops and we end up eating it without knowing the difference. It is also a favorite for the Eid-ul-Azha sacrifice in the northern regions. It is also sold commercially in a simple way, without deception. But the aunts say there is a trick to cooking buffalo meat well: the pieces should be small and should cook longer than beef. The longer it boils over a flame, the tastier it becomes.
I have proof of this in some hotel in Karwan Bazaar. The meat is cooked in the pot in the morning and kept on a low heat throughout the day. At night, truckers with their vehicles full of goods stop by for dinner and enjoy that meat with the rice or paratha served at the hotel. The menu openly states that it is, in fact, buffalo meat. This preparation is also quite delicious!
Veal with pumpkin
Sometimes, when my mother's butcher shop was a little slow and we were all waiting for dinner, she would cut the meat into very small pieces and cook it with pumpkin. This is a recipe from the Rangpur region. She would first start by dry roasting the meat and spices in oil, and once they started to separate, she would cut the squash into small pieces and add them to the meat. Little by little, spoon by spoon, she put a little water and continued roasting. Once done, the finishing touch was a cumin dressing sautéed in oil. This was delicious enough for us to easily eat our rice with the little pieces of meat and lots of squash.
The same recipe can be applied to beef with butternut squash or tomatoes, swapping out the butternut squash for a combination of the other two.
Meat in Hatirpool Lower
When I was a child in the early 70's I used to visit Hatirpool market with my dad to buy beef. Beef sold in Hatirpool and Kathalbagan was popular back then, and the markets were just after Thatharibazar and Aminbazar in Old Dhaka. Butcher shops and supermarkets were not as common as they are today, and meat was probably 8 Tk for a 'sher'.
Photo: Sazzad Ibne Sayed
">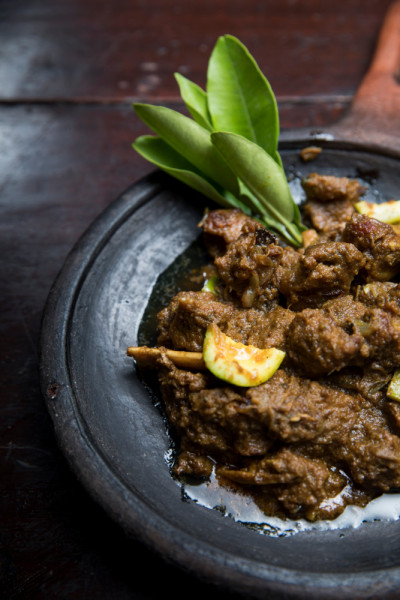 Photo: Sazzad Ibne Sayed
I still remember my dad bringing 2 or 3kg of rib and leg meat and asking mom to make an oily red curry with whole garlic. This dish is practically impossible to put down once you start eating it. Whole garlic took the form of beef, and sometimes fresh new potatoes were also added, after frying them separately first.
What about the tail?
Cola stew is quite popular in some parts of the world, but we Bengalis much prefer our spicy bhunas. Tail meat becomes very tender if simmered long enough, even the bones become easily edible along with the meat. The cooking process is the same as any other beef bhuna, but adding some crispy fried onions to the dish as a finishing touch can elevate the flavor by miles. However, most have never tried this cut. Tail meat is sold separately on the market. I think it's worth trying at least once.
beef with spinach
For most food enthusiasts, beef is a much loved item, delicious even when medium tender and boiled with a few basic spices. But those who want to have healthier preparations of beef, one option is to cook it in spinach. The recipe is simple too. Cook the meat as usual bhuna and keep the sauce. Add some small potatoes while it is boiling. Once the meat is done, break up some spinach and mix it into the meat and sauce, and cook it on the stove over low heat for a while, about 3-4 minutes. You can keep as much sauce as you want.
a different stew
Beef stew is known to be delicious. But we could do a slightly different one this time. Carry 2 kgs of beef with bones in a pressure cooker. Add thickly sliced ​​onions, garlic, whole black peppers, some vinegar or lemon juice, salt, some whole red or green chilies, some minced ginger, and some brown sugar and toss to coat the meat with the marinade . Now put the pressure cooker on the fire. If the meat is tender, you will need only 2/3 whistles from the pot, and if it is hard – up to 5 whistles. You can also add a little oil, but it is not necessary. Open the pot to check if it is tender. When almost done, add diced potatoes, carrots, radishes, cauliflower, green beans, and bell peppers to the broth, continuing to simmer. Once everything is boiled, add the garnish of black pepper powder and the sautéed onion and garlic. It will feel much more like a soup and can be enjoyed with roti, bread, or even rice. It also tastes great on its own.
Popularity of meatloaf
There is a high demand for shredded beef resulting from repeated heating of bhuna beef. A lot of beef is fired with very few spices and hardly ever needs water to cook. As it is repeatedly simmered day after day, it takes on a more fried texture, and this is more commonly known as "jhura/jhuri gosht". But care must be taken that it is never heated over high heat lest it become too dry or too hard. The bone should be eaten within the first few days, as it prevents the rest from developing a strong, unappetizing odour. This jhura beef is never actually kept in the fridge, but instead is heated over and over again in the same pot and kept at room temperature otherwise, letting the delicious aroma of the meat spread throughout the house.
Mom's Special Kabab
Eid meant special skewers made by mom. She could never say where she learned it. She also couldn't tell us the precise measurements of the various ingredients, always saying "properly" or "to taste". That's because they cooked based on estimates based on their own experiences. Ever since mom passed away two years ago, we've tried to replicate her recipe, but never quite got it her way. But I'm sharing the recipe anyway, because I've never tasted such delicious skewers anywhere else.
Take 1 kg of boneless rump meat and cut it into very small pieces. Soak 1 cup of raw chana daal (split chickpeas) for some time. Now drain the daal and mix it with the meat. Separately blend 2 or 3 pieces of a raw papaya, with skin. Add a little nutmeg (jaefol, jayetri), 1 black cardamom, a very small amount of fenugreek and fennel, green chili paste, salt and sour yogurt. Also add a few shavings of crispy fried onion (beresta) along with the oil. Let everything marinate for 8-10 hours. Later, brown some onions in oil, sauté a little fenugreek in it, add the marinated beef and keep it on a low heat. Keep stirring, but you don't need to add water. After a while of stirring, the meat will be completely tender. Simply remove it from the stove once the oil separates. Mom's kebab would be ready. It tastes exceptional with paratha, and is garnished with sliced ​​onions, green chili, cucumber, and fresh coriander leaves.
Cooking various meat dishes is a time-tested culture of the Eid-ul-Azha festival. Every family has their favorite recipes and Eid day traditions of Qurbani activities. Nothing brings out the gourmet side of people like the festival of sacrifice.
Translated by Sania Aiman
Food and styling: RBR