When fun and exercise take on the same stage, it will not only increase participation, but also adherence.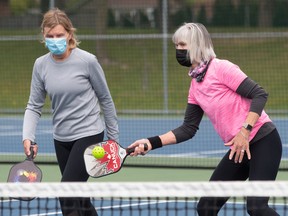 Postmedia may earn an affiliate commission from purchases made through our links on this page.
article content
Claiming to be the fastest growing sport in North America, pickleball is outpacing most other sports.
article content
A 2022 survey by Pickleball Canada showed that the number of players has tripled in two years, with eight percent of Canadian households reporting that at least one member of the household plays pickleball once a month. That translates to about a million Canadians playing pickleball, 45 percent of whom play four or more times a month.
Baby boomers were some of the earliest adopters of the sport, although the number of 18-34 year olds taking up the sport is steadily increasing. With fun and fitness often cited as the reason so many have picked up a racket, it's worth finding out how much exercise you get during a game of pickleball.
A hybrid of tennis, badminton, and table tennis, pickleball is played on a 20 by 44-foot (6.10 by 13.41-meter) court, with most recreational players preferring doubles to singles. It's a smaller court than tennis, so pickleball players don't have as much ground to cover. This makes it a great game for people who have slowed down a step or two over time. But due to the newness of the sport, there are only a few studies that have investigated how pickleball contributes to overall fitness.
article content
A team of American researchers from Western State Colorado University equipped eight women and seven men between the ages of 40 and 85 with portable units designed to determine how much energy they expend during a game of pickleball. They also took a before-and-after snapshot of their cardiometabolic health to see if pickleball had a positive effect on their fitness and health after six weeks of regular play.
A group of researchers at Brigham Young University in Idaho investigated the physiological demands of the game, hoping to discover how 30 minutes of doubles pickleball compares to a 30-minute walk. They recruited 25 pickleball players (15 men and 10 women) with an average age of 38 and equipped them with sensors to measure heart rate, step count and calories burned while walking and playing pickleball.
article content
Both studies confirmed that pickleball is legitimate training. The Picklers in the Western State Colorado study averaged a heart rate of 108 beats per minute and burned 353.5 calories per game, which classifies as a moderate-intensity workout.
"Regular participation in pickleball elicits cardiovascular and metabolic responses that meet exercise intensity guidelines for improving and maintaining cardiovascular fitness," the researchers said.
The 15 men and women also improved their health and fitness over the course of the study, which required them to play an hour of pickleball a day (about four doubles matches).
"After six weeks of pickleball participation, there were significant improvements in the following outcomes: high-density lipoprotein (HDL) and low-density lipoprotein (LDL) cholesterol, systolic and diastolic blood pressure, and maximal oxygen uptake," they said. the researchers. .
article content
As for how pickleball compares to walking, subjects in the Brigham Young study had 14% higher heart rates and 36% higher caloric expenditure playing double pickleball compared to walking. They said pickleball felt more like exercise than walking.
"Playing pickleball doubles was perceived to be more strenuous than walking, as median ratings of perceived exertion after pickleball doubles were nearly 44 percent higher than median ratings of perceived exertion after walking," said researchers from Brigham Young.
However, when it comes to the number of steps, a 30-minute walk accounted for 54 percent more steps than a set of doubles. The smaller court, the proximity of teammates on the same side of the net, and much of the play taking place at the net means fewer steps are accumulated over the course of a match.
article content
As interesting as these statistics are, they come with a caveat: Researchers in the western state of Colorado noted considerable variability between subjects, with some heart rates indicating individuals playing well within the range of what is considered vigorous intensity training. It is also likely that some people play at the other end of the intensity range, with lower energy expenditure than the average pickleball player.
Subjects in the Brigham Young study found pickleball more fun than walking, a sentiment echoed by respondents to the Pickleball Canada survey. Sixty-two percent of those surveyed said the main reason they play pickleball is because it's fun, a number that rose to 89 percent among baby boomers.
article content
That sense of enjoyment is what's driving the increased participation in pickleball leagues and neighborhood courts across the country. When fun and exercise take the same stage, it will not only increase participation, but also adherence. People will come back more often for fun than for exercise. Among Canadian picklers, the social aspect of the game is also important. Thirty-eight percent of those surveyed said it's what keeps them on the court.
This is all good news for Canadian pickleballers spending the summer on the courts. They have fun in the sun and get in great shape.
Fitness: Gyms should welcome people of all sizes, not just one-size-fits-all

Fitness: Start your workout with a cup of coffee