Gareth Bale has agreed to join MLS team Los Angeles FC for one year.
The striker, a free agent after leaving Real Madrid this summer, had other offers but has opted to go to California and the MLS.
Bale is looking to maintain his fitness ahead of Wales' appearance at the 2022 World Cup in Qatar. They qualified last month after beating Ukraine in the World Cup play-off final in Cardiff with Bale's free kick headed by Andriy Yarmolenko for the game's only goal.
Sky Sports News' Dharmesh Sheth said: "If we go back to just before that famous afternoon when Wales beat Ukraine in the World Cup qualifiers, there was all sorts of speculation about Gareth Bale's future. If Wales hadn't qualified for the World Cup, there was even talk that Bale would definitely retire from football.
Wales captain Gareth Bale has dismissed reports linking him with a move to Getafe, as well as explaining his thinking behind any potential moves in the near future.

Then, when he helped Wales qualify for the World Cup for the first time in 64 years, there was even talk of him joining his hometown club, the club he supported as a child in Cardiff City.
"He had talks with Cardiff City manager Steve Morrison about a possible move there and we were talking about a short-term deal to keep him fit before the World Cup in Qatar.
Wales manager Rob Page says Gareth Bale needs to play football regularly to keep himself fit ahead of the World Cup.

"But it seems that he has chosen a one-year contract, some are even reporting that there is another option in that contract, to go to the United States with the MLS team LAFC.
"He will also be in good company because Italian defender Giorgio Chiellini will also be joining LAFC."
Bale joined Real Madrid from Tottenham for a world-record fee of £85.1m in 2013 and often had a contentious relationship with fans and the La Liga club's hierarchy.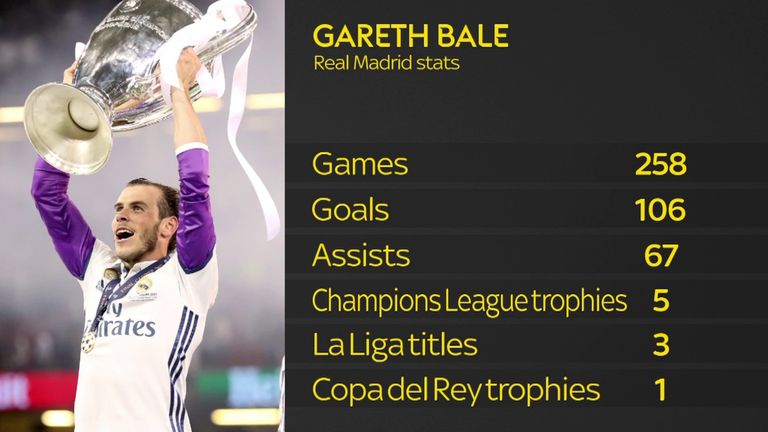 This included high-profile fights with Zinedine Zidane, a redemption in the 2018 Champions League final with a spectacular overhead kick goal and a year on loan at former club Tottenham Hotspur in 2021/22.
But he won three La Liga titles, five Champions League trophies – winning one of each last season – plus three UEFA Super Cups, three FIFA Club World Cups, the Copa del Rey and the Spanish Super Cup during his time in Madrid.
On Friday night, LAFC tweeted a video of a club cap in a box, ready to be sent to someone in a possible tease of Bale's imminent arrival.
Reporter's Notebook: Why Bale's MLS move is good for everyone involved
Geraint Hughes of Sky Sports News:
"While Bale's transfer to the US may come as a surprise to some, for those in Wales this will come as no surprise."
"It would have been a great risk for Bale to take even a short contract to play in the Championship, the risk of getting injured either from an untimely tackle or simply from the wear and tear of one of the toughest leagues in the world was, in my opinion, never on the cards.
"It takes the excitement out of Bale playing for Cardiff City before the World Cup and he didn't become a big possibility.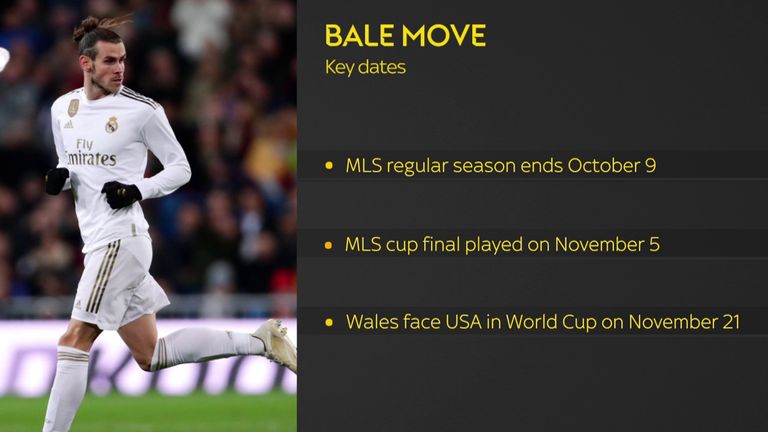 "Even before rumors of a move to Cardiff City began to gather steam, a transfer to MLS was already being discussed. Bale needs to strike the balance between playing, getting fit and reducing injury risk and MLS should provide that balance.
"It also gives Bale the perfect environment to get in shape to lead Wales to the World Cup in November. The weather in California will be ideal, but it's also ideal weather for him and his family to live and work to a degree. of anonymity The irony of working for a club in Los Angeles, a city where show business reigns supreme, is that not many people will bother Bale or necessarily even know who he is.He will enjoy not being the center of attention.
"From the perspective of Wales and Page, this is a very good result. Bale's workload is manageable, but he will also improve his fitness ahead of the World Cup. Wales have had every confidence in Bale's ability to manage his own body for a long time; the 32-year-old is a fantastic athlete, regardless of what you may have read or heard about his fitness."
Read more from Hughes HERE
Earnshaw: A great move by Bale | MLS will love him
Robert Earnshaw expressed his excitement in welcoming Gareth Bale to MLS

Former Wales international Robert Earnshaw on Sky Sports News:
"I think he picked the best club he could have gone to in MLS. Right now they sit at the top of the league so that's great news. I'm on the road so if you need any help I can help!" help him!
"This is a big move for him. He needs to be playing for the World Cup in a few months and he's also in season. He hasn't spent much time playing last season for Real Madrid, he's gone there now, so he's a new player. chapter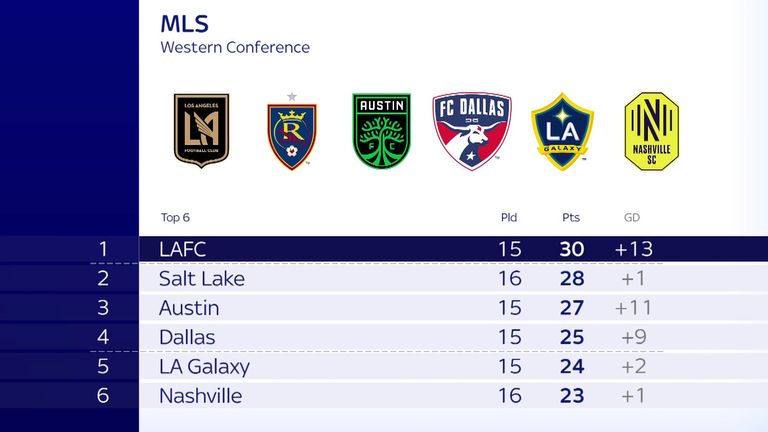 "We are going to see a new Bale in another country, in the MLS. A few weeks ago I thought there was a chance. Knowing him and having played with him, understanding his mentality, I think he is going to love it." .
"I was at LAFC a few weeks ago and the atmosphere is amazing there, the fans are amazing, a really good stadium and he's going to love it.
"Every place he's going to go, it's going to be competitive. He's going to find it challenging, it's not going to be easy for him because it's a fast end-to-end league and you have to be fit. It will give him the fitness he needs.
"MLS is going to love having him. He's going to bring all his skills and I think he's going to do very well."
Bale ready for the MLS move: his opinions…
Frank: Not too demanding for an injury prone player, training in hot weather to prepare for Qatar, great move for him and Wales!
hiney: Personally, I think Gareth Bale should have returned to English football, it would have helped him get better fitness levels for the World Cup.
Steve: As a Welshman, it would have been wonderful to have Gareth play for Cardiff…however I am so relieved that he will not be submitting to what is arguably the most physical league in Europe. Right move for now and also pretty sure he will play in warmer conditions ready for Qatar.
jay: Nice move, fact finding mission too, with the US in the Welsh group, you'll learn what to expect.
Bale says goodbye to the Real Madrid fans
Gareth Bale received a positive reception from Real Madrid fans during a trophy parade at the Santiago Bernabéu as he prepares to say goodbye in the summer.

Bale said goodbye to his "dream" of nine years at Real Madrid with an open letter to fans of the club.
His relationship with the club's fans deteriorated from what was often perceived as a work-shy mentality towards the end of his time in Spain, which didn't help when he was photographed next to the 'Wales, Golf, Madrid' flag. ' from a fan in November 2019 after helping his country qualify for Euro 2020.
Despite that, he received widespread applause when he made his last public appearance as a Real Madrid player during their Champions League homecoming in May, responding with an open letter to the club's fans on social media.
He wrote on Twitter: "I'm writing this message to thank all my teammates, past and present, my managers, backroom staff and fans who supported me.
"I arrived here nine years ago as a young man who wanted to make my dream of playing for Real Madrid come true. Wearing the immaculate white kit, wearing the shield on the chest, playing at the Santiago Bernabéu, winning titles and being part of what is so famous, winning the Champions League.
"Now I can look back, reflect and honestly say that this dream came true and much, much more. Being part of the history of this club and achieving what we achieved while I was a Real Madrid player has been an incredible experience and one that I will never forget.
I also want to thank the president Florentino Pérez, José Ángel Sánchez and the board for giving me the opportunity to play for this club. Together we were able to create some moments that will live forever in the history of this club and football.
"It has been an honour. Thank you! HALA MADRID!"