Christian Eriksen is understood to be deciding between joining Manchester United or staying at Brentford.
Both clubs have made attractive offers at the age of 30, but United's is believed to be more financially lucrative.
Eriksen worked with Erik ten Hag when training with Ajax as part of his return to football following his horrific collapse while playing for Denmark at Euro 2020. Teaming up again as part of United's anticipated new era has its attractions.
But sources close to the midfielder, whose short-term contract at Brentford expires at the end of June, say he and his family are based in London and have reservations about moving to the north-west.
Eriksen also wants to start every match to secure a place in Denmark's World Cup squad later this year, his priority after missing the European Championship due to cardiac arrest in the first match.
We look back at Eriksen's best moments since joining Brentford in January 2022

He is unlikely to re-sign for Tottenham, who play mainly with two central midfielders under Antonio Conte and committed to Rodrigo Bentancur and Yves Bissouma this year.
Eriksen's comfort in London, that money is not his priority and the strength of his relationships with the people of Brentford, which includes several of his Denmark team-mates and Danish head coach Thomas Frank, puts the club in a solid position.
However, they remain in the dark about his future while he is on vacation considering his options, with Eriksen and his agent Martin Schoots not revealing anything even to his closest confidants in the game.
However, the Bees should expect to be the first to know of his decision, given those relationships and the platform they've given him to get back into the game.
'Eriksen in a head or heart situation'
Brentford midfielder Christian Eriksen and Soccer AM's Tubes share their own stories about what happened when they suffered their heart attacks and woke up in a hospital bed.

Sky Sports News reporter Mark McAdam:
"This is a significant 24 hours in the future of Christian Eriksen. It's a fascinating story as Eriksen is deciding between two options. One is manchester unitedthe second is Brentford.
"It's strange to think that 10 years ago, United were in contention for Premier League titles while Brentford were in League One preparing for their first game of the season against Bury.
They are now competing in the same market for the same player. Both offers are fair, respectful and decent.
"Eriksen is really in a head or heart situation, weighing the pros and cons of joining both clubs. He worked with Thomas Frank when he was young and had a very successful period there, keeping the team in the league.
Brentford manager Thomas Frank says it is a win-win situation around Christian Eriksen's future at the club.

"He was the heartbeat of that midfield. Brentford fans would say without Eriksen they could possibly have fallen. That's how influential he was at the end of last season."
"There is a loyalty to the football club after everything that happened to it a year ago, but then you have one of the biggest clubs in world football rebuilding their midfield.
"In Erik ten Hag, there is a good connection as Ajax allowed him to train with them during his recovery."
Analysis: Why do Man Utd want Eriksen?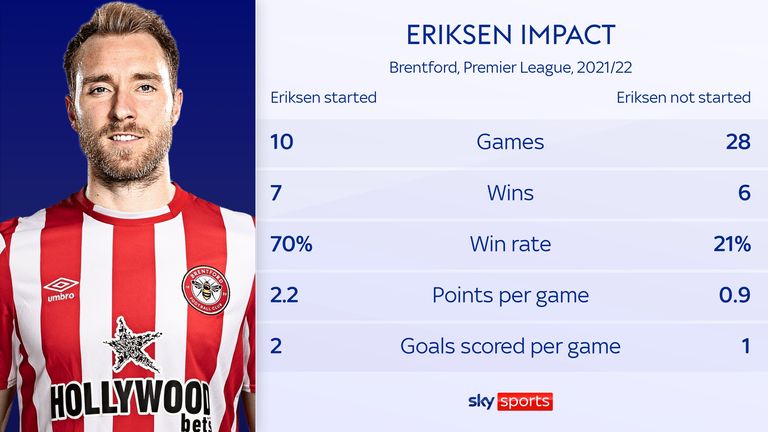 Ben Grounds, football journalist for Sky Sports:
"While the allure of playing for a club of the stature of Manchester United is enhanced by the prospect of working alongside the man who helped him get back to full fitness at Ten Hag, Eriksen will be equally drawn to prolonging his love affair with Brentford.
"There is no air or grace in the Dane, whose affinity for the club that enabled him to relaunch his career with compatriot Frank will surely push him in the opposite direction.
"Brentford weren't in free fall before his arrival in January, but his ball-possession qualities undeniably eliminated any lingering fears of 'second-half-season syndrome'. In the absence of the injured Josh Dasilva, Eriksen filled with the creativity deficit grows.
"His return to professional football was one of the stories of the campaign. And there was no turning back when he stepped onto the pitch. Brentford had more wins (seven) in the 10 games he started than in the 28 games he didn't play." starter (six) and his goal ratio doubled.
"Eriksen ranked third in the division for chances created and moves into the bottom third since making his first start on March 5. Whether he stays or goes, Brentford needs to find another player who can link defense and attack.
"When it comes to comparing United midfielders in the Premier League since his first start in March, Eriksen ranks favourably. Following the departures of Juan Mata, Paul Pogba and the likely departure of Jesse Lingard, United must strengthen this department. Having Eriksen on board in every way feels like a no-brainer."
Of Jong, Martínez between list of objectives; Wan-Bissaka prepared to fight for a place
Manchester United is still in talks with Barcelona for the signing of the midfielder Frankie de Jong.
The two clubs remain separate on their valuations, but United are still hopeful that a deal can be struck and there is a growing belief that the player wants to come and join Ten Hag, with whom he worked at Ajax.
They will not pay more and will have other objectives. The feeling is that if United were to "rush" into a deal, they would be playing into Barcelona's game on the fee.
Dutch football journalist Marcel van der Kraan warns that it would be seen as a "break" if Manchester United fail to sign Erik ten Hag's two main transfer targets – Eriksen and Frenkie de Jong.

For his part, the central defender of Ajax Lisandro Martinez he is a player that United are also looking at.
He was a regular for Ten Hag in the last three seasons at Ajax. He is not currently a priority position, but with the possibility of departures, United are doing their due diligence in that area.
The club is also still interested in the Ajax winger. anthonywho is another player that Ten Hag knows and trusts.
Regarding departures, talks with Nottingham Forest about the goalkeeper are ongoing. dean henderson.
There is no final deal yet as United want a direct loan, while Forest are pushing for a purchase option next summer. There are also discussions about the part of the salary that each club will pay in the loan period.
Aaron Wan Bissaka he's ready to fight for his place next season, but he's at a stage in his career where he wants regular first-team football.
Several Premier League clubs are interested, but no official offers have been made.
United would consider suitable offers but all sides are relaxed about the situation as he has two years left on his contract. The club has an option for one more year.
Follow the summer transfer window with Sky Sports
Who will be on the move this summer when the transfer window opens on June 10th and close at 23:00 on September 1?
Stay up to date with the latest transfer news and rumors on our dedicated Transfer Center blog at sky sports digital platforms. You can also catch up on the ins and outs and analysis of Sports news from heaven.